Settings To Control License Key Creation
Configuring License Key Functionality for WooCommerce
Depending on how Bright is configured, customers can purchase license keys for Bright/SCORM Cloud-based e-learning courses.
These license keys can be shared with the learner(s) to provide access to the courseware.
A variety of settings are available in the Bright plugin settings on the WooCommerce page.
You can find these settings here in the WordPress admin interface: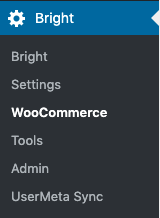 In the tab marked "General".
Enabling License Keys
License keys can be disabled, enabled, or required.
To enable license keys, check the "Offer License Keys" setting:

You can also force a license key to be created on every order that includes a Bright course using the "Always Use License Keys" setting:

Restricting A License Key To A Single Course
To restrict a customer's ability to generate a license key for multiple courses, use the setting "Restrict License Keys to Single Courses":

Requiring Identical Quantities For Each Course In A License Key
If you allow license keys for multiple courses, we recommend you set the "Restrict License Keys to Identical Quantities for Each Course in the Cart".
This will mean that the customer will be blocked from buying a license key that contains a variable number of seats for the included courses: